Reto ágil | Identification and removal of non-crushables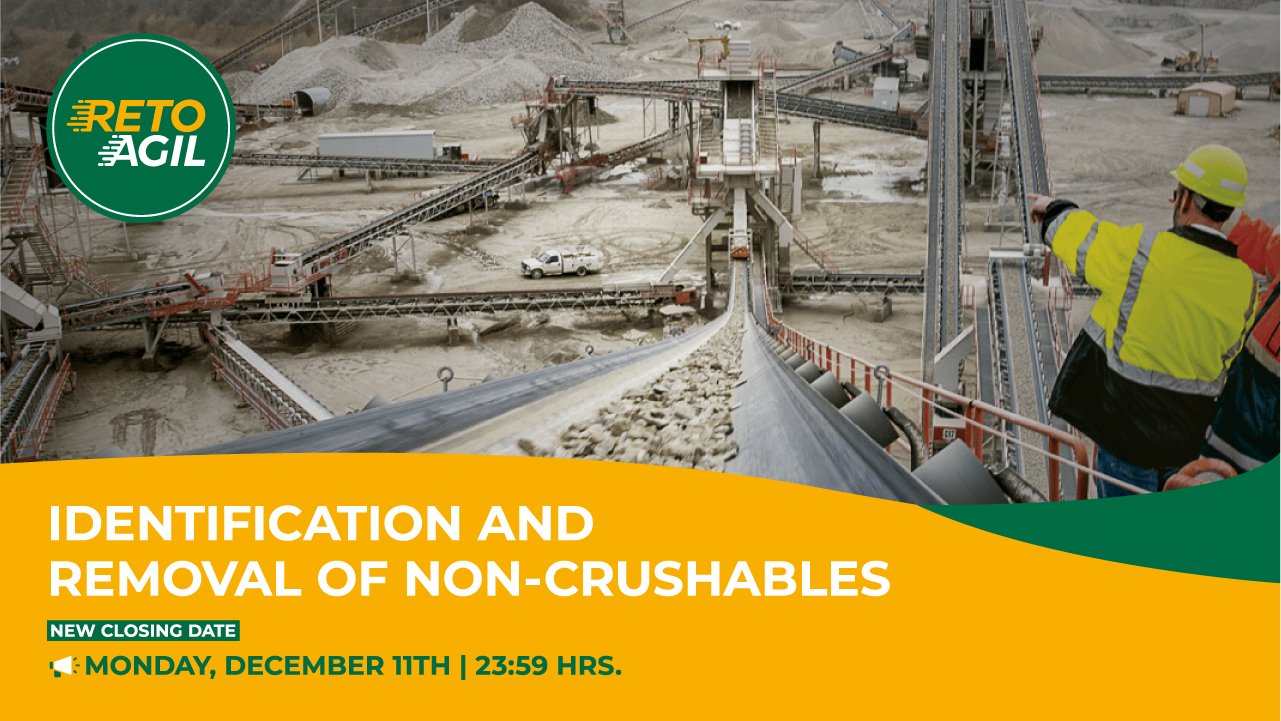 Hello, innovator!
The Hub de Innovación Minera del Perú is looking for innovative solutions that allow for the identification and removal of non-crushables before the ore reaches the beginning of the crushing circuit without the need to stop the circuit.
Who is facing the issue? Five of our affiliated companies are experiencing the issue of non-crushables and are participating in the challenge. However, the data provided belongs to Buenaventura's El Brocal company, which is leading the challenge.
Do you believe you have a solution aligned with the search? If your answer is affirmative, we ask you to read the following valuable information:
Problem:
The presence of non-crushables elements (both metallic and non-metallic) causes damage to conveyor belts, blockages, consequently resulting in production losses due to multiple intermittent stops.
What non-crushables we encounter?
Metallic non-crushables materials: drilling rods, rebar, anchor bolts, split sets, excavator nails, loader and scooptram parts.
Non-metallic non-crushables materials: aluminum bars, pressure hoses, wood.
Why is it a problem, and what are the consequences?
These non-crushables originate from the previous mining process, where parts of structures become detached and mix with the ore material to be transported to the plant, especially in underground mining, as a result of blasting and support structures. These non-crushables materials cause blockages and damage to conveyor belts.
El Brocal has reported more than 250 events related to non-crushables materials in the 2022-2023 period, resulting in over 800 hours of downtime and processing delays. This has translated into economic losses of approximately 1 million dollars, including the cost of repairing crushers and conveyor belts.
Current situation:
The measures adopted by the companies to control this problem are as follows:
Mine operators manually remove visible non-crushables.
Belt operators visually identify non-crushables and stop the conveyor line to remove them manually, resulting in intermittent stoppages.
Electromagnetic systems on conveyor belts, with limitations of not being applicable to non-metallic non-crushables and being ineffective if the non-crushable material is buried.
In figure 1, you can observe the process and conveyor belts for two circuits: (i) Pb/Zn/Cu circuit, originating from underground mining, with a more significant impact, and (ii) Copper circuit from open-pit mining. Both diagrams highlight the parts where the problem has the most significant impact and provide additional information on screen sizes and current electromagnets.
In figure 2, you can see the types of non-crushables and their frequencies of occurrence.
What elements are valued in the solution?
Expertise of the innovative team in the field.
Agile implementation (on average, within 6 months).
An easily maintainable solution.
In the case of commercially available solutions from well-established companies in the market, Buenaventura will apply its terms of procurement (information available on the application platform.
Apply here until Monday, December 11th at 23:59 hours! If you have any questions or doubts, check out the Q&A session or contact us at [email protected]