Reto Ágil | Transfer time optimization of supervisors in underground mine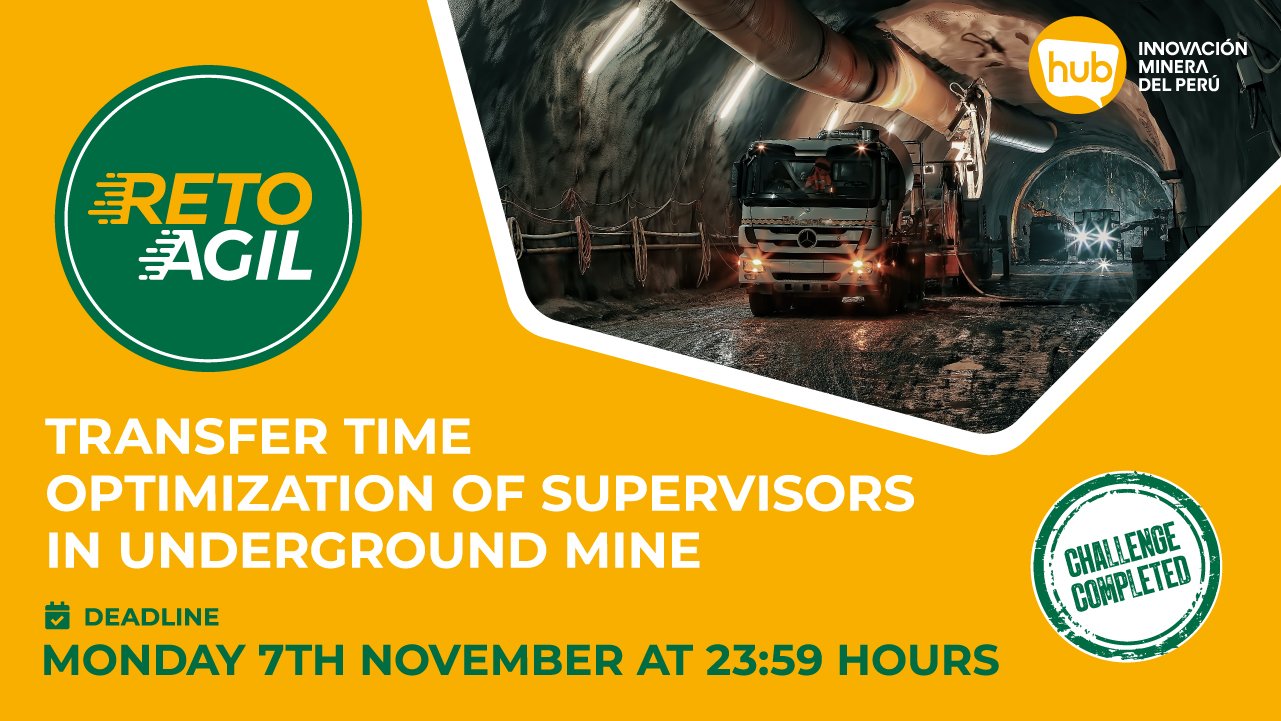 Hello, innovator!
Commissioned by one of our mining partners, the Hub de Innovación Minera del Perú is looking for solutions (equipment, vehicles, means of transportation) that reduce the transfer time of supervision work in underground mines.
Do you think you have a solution aligned to the search? If your answer is affirmative, we ask you to read the following valuable information:
Problem:
During the supervision work that takes place in each guard, the superintendence staff loses effective hours of supervision due to the time it takes to walk (they cannot enter trucks throughout the section inside Mina). In that sense, supervisors use a large amount of their supervision time in just transporting, which generates high operating costs and exhaustion of the personnel. Likewise, transfer times are expected to increase, as entering deeper into the mine with greater distances to be walked.
Current situation:
The team of five mine supervisors invests ten hours a day in transfers, in addition to this there are nine more collaborators from geology and mine planning who also do this tour, but with other frequencies.
The longest route is three kilometers, which takes an hour to cross.
The personnel affected are the Superintendency of Mine Supervision personnel: Mine Superintendent, mine managers, watch managers, A/B supervision (Technicians) and geological and mine planning personnel.
Expected situation:
Increase the effectiveness of supervision tasks in the interior mine by reducing at least 50% of the time used in displacement.
Take into account:
There is no communications infrastructure into the work area and the regulations require human supervision, so solutions only based in remote supervision would not be feasible.
The supervision cannot join the operational personnel transfer since that vehicle is then being used exclusively for the transfer of mineral and clearing. In no case personnel and/or persons will be carried along with load (mixed transport).
Every personnel transport vehicle must comply with the technical characteristics and conditions established in DS 058-2003-MTC National Vehicle Regulation.
Only vehicles designed for personnel exclusive use will be allowed, which are comfortable, with safety belts, rock fall protection, visual and sound alarm, front and rear headlights, with clear indications of their maximum passenger capacity.
The maximum allowed speed is 10 kilometers per hour.
There are sections of the route with rails, which can be used by the vehicle, however, there are also sections without rails so the applicant must contemplate both cases.
Mine entrance sections for income can vary from 70 cm to 2.5 meters to 4 meters.
View the plans of the mine entrance here.
We value proposals that meet the following characteristics:
Applicant's experience in similar activities
Quick implementation (maximum 9 months)
Local supply and service
Solutions validated under similar conditions
Additional considerations:
Technology readiness levels: We accept proposals from prototypes or proofs of concept without field validation to commercially available solutions (idea level solutions are not eligible).
Intellectual Property: The company is not interested in PI ownership. It will only require NDA if considered necessary.
Are you interested? Apply here until November 7!